Sou'Wester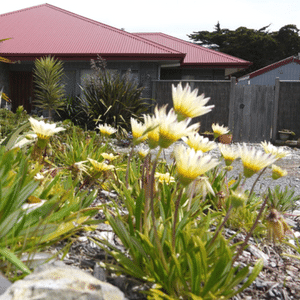 The newest business to join the local tourism group and support growth on King Island is Sou'wester, owned and operated by King Island locals Richard Collins and Megan Chivers. Richard and Megan recently designed and built their dream home in Currie and are so proud of their achievement that they've decided to share the experience with visitors to the island.  Sou'wester is currently available via Airbnb although Richard and Megan plan to utilise other booking channels as their new venture grows.
Sou'wester is available for the exclusive use of guests and features a fully equipped kitchen, 3 double bedrooms which can be reconfigured as twins, a self-contained studio bedroom (1 queen and 1 king single) with ensuite and even a pizza oven with views towards the glorious Southern Ocean, "We love our house and we love King Island so it seemed a great idea to invite visitors to experience our island from the comfort of our new home," said Megan.
Previous guests Dion & Lydia were among the first to stay and reported, "The place was amazing!!" They also commented on how much they loved listening to Richard and Megan's CD collection while relaxing in the comfortable and well appointed open plan lounge room.
If you would like to learn more about Sou'wester Megan would love to answer your questions via phone or email. 
Back to all News